PROFESSIONAL DEEP CLEANING SERVICES IN DUBAI FOR APARTMENT DEEP CLEANING, VILLA DEEP CLEANING & OFFICE DEEP CLEANING SERVICES
At Famous Deep Clean Dubai we care about providing the best and completely-personalised deep cleaning services in Dubai – regardless of whether you need to deep clean your house or flat or whether you are a private person or a landlord. We provide fully-vetted and professional local cleaning specialists who know their job and make your premise cleaned thoroughly from beginning to end.
One-off deep clean of your house
from AED 250 to AED 1500

Fully trained & local cleaning experts
We deep clean old & new hoses and premises
in the whole of Dubai
Our deep cleaning service is a an excellent choice for Clients who wish their flats, houses, or other premises to be thoroughly and efficiently cleaned. Are you a landlord and need a comprehensive end of tenancy cleaning? Our Deep cleaners will come at your place and fully dust, clean, and wash the entire flat or house of yours. We possess the equipment to do the service professionally and with a minimum downtime.
Are you moving in and require a thorough and cleaning of your new house or flat? Just call us or drop us an E-mail and we will be there for you. Whether you need a professional kitchen, bathroom, or bedroom cleaning – our cleaners will make sure that each place will be left shiny clean.
Or maybe you need someone to clean the entire premise after removals? Famous Clean Dubai provide the team of experts and the right equipment to effectively clean the entire place by getting rid of any debris, dust, sand, stains, or any other kind of dirt from your floors, furniture, mirrors, walls, or windows. This will make the space free of bacteria and completely sanitised. Our domestic and commercial cleaners use dust-free hoovers and other equipment for a professional upholstery, carpet and rug cleaning.
Famous Clean Dubai company provide you with the fully-personalised and trustworthy service. Our cleaning cont
ractors use only the best cleaning machinery as well as washing and cleaning products and agents, which reflects our professionalism and devotion to what we do. Our service is Client-friendly – we offer very flexible cleaning times adapted fully to your needs.
We have a 7 years-long experience in home cleaning, flat cleaning, office cleaning, hotel & pub cleans, and many others in the whole of Dubai. Our servics are offered on the following bases: weekly, fortnightly, and monthly. Apart from the above, we are also specialists in deep cleaning, regular & one-off cleans, end of tenancy cleaning, move-in clearances, after builders cleaning, carpet & upholstery cleaning, cooker and oven cleaning. Our company is FULLY INSURED.
Service covered:
Kitchen Cleaning
Clean inside windows and window sills, outside upon request where safely reachable from the inside
Dust and wipe down all surfaces
Clean and disinfect countertops
Clean small counter-top appliances (toaster, kettle)
Clean inside and outside of microwave
Clean refrigerator exterior, interior upon request (defrosted)
Clean and de-grease extractor fan
Clean oven inside and outside
Clean and disinfect sinks and taps, polish chrome fixtures
Clean outside of cupboards and drawers
Clean exterior of large appliances, interior upon request (empty)
Wipe table and chairs, vacuum clean and mop floors
Remove cobwebs, thorough dusting
Empty and clean litter bin
Bathroom Cleaning

Clean and disinfect shower and shower doors
Clean and polish mirrors, de scale tiles
Clean and disinfect sink and counters
Wash and disinfect floors
Vacuum carpeting if any
Clean and disinfect toilet, polish chrome fixtures
Wipe down outside and inside cabinets
Bedrooms and Living areas
Vacuum clean and edge carpets
Clean windows and window sills
Wipe down all surfaces, tables and chairs
Vacuum clean, mop and dry hard floor surfaces
Vacuum clean the stairs
Hand wash and dry marble
General dusting, Tidy room up
Dust furniture and décor
Information:
Tel: +971 4 3383744, 050 9139563, Email: info@accleaningdubai.com
OUR OTHER SERVICES:
WALL PAINTING SERVICE: APARTMENT & VILLA PAINTING SERVICE AND MOVE OUT PAINTING DUBAI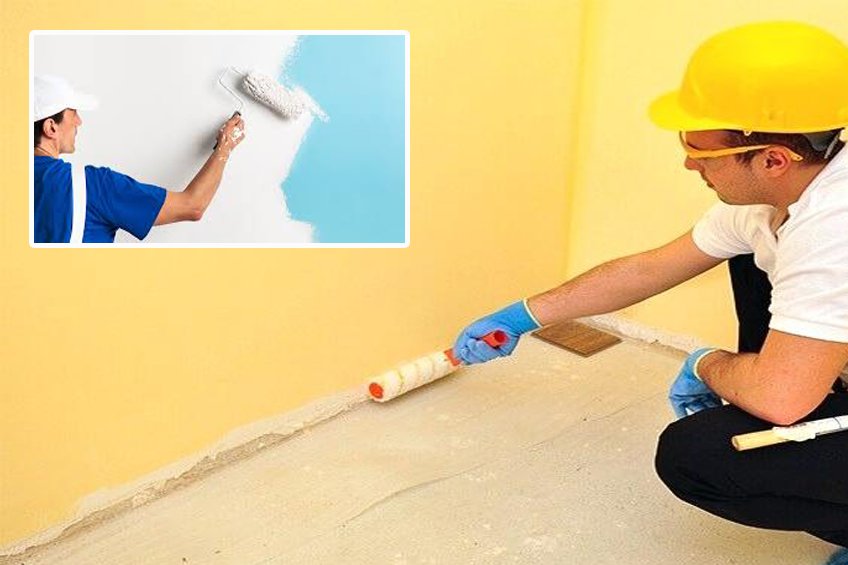 Our experience in residential painting and decorating is extensive, which means we have learned how to produce high quality results in many kinds of situations and with many kinds of materials. We also never forget that we are often working in people's homes and so every job is carefully planned to ensure any disturbance to the occupants is kept to a minimum.
For older residential properties or those in need of refreshing, the improvement in appearance made possible by professional decoration can often be dramatic and increase property value. Read more..